New York, January 20, 2023.- Galdana Ventures, the Venture Capital division of AltamarCAM Partners, is thrilled to announce that it was recently featured on the Nasdaq billboard in New York's Times Square, which announced the successful upcoming final closing of its latest fund, the Galdana Ventures III Programme[1], after which the AUM of Galdana Ventures will surpass $1.8b.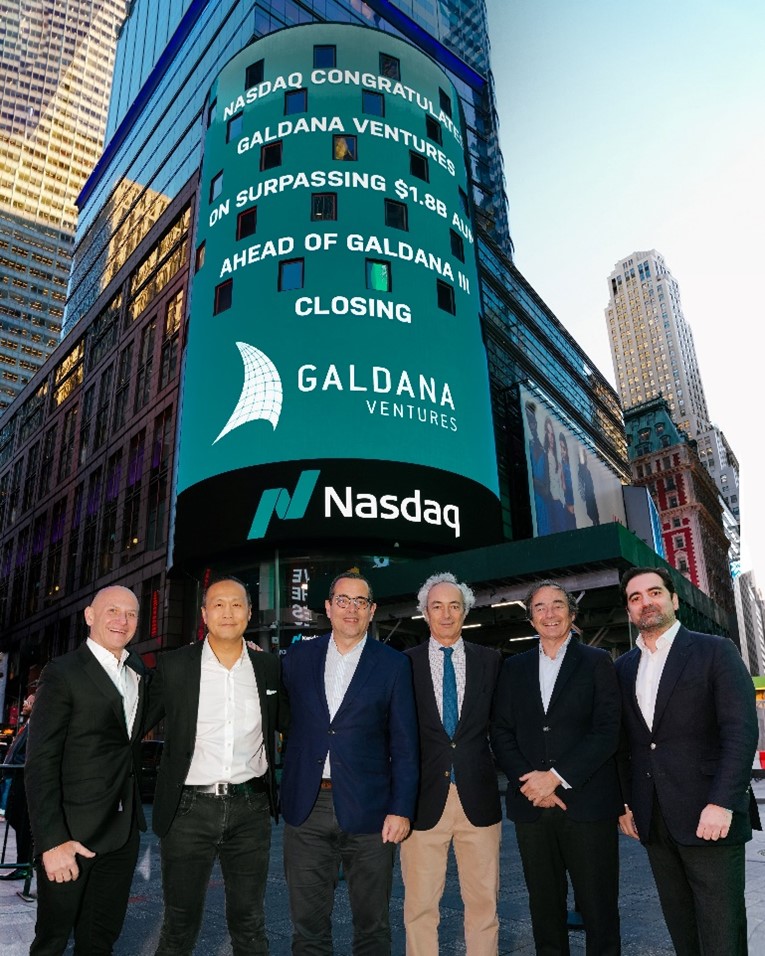 Galdana Ventures is the Venture Capital platform of the larger group AltamarCAM Partners, a leading alternative asset manager with offices in Madrid, Barcelona, Cologne, London, New York, Santiago de Chile and Munich. Since its launch in 2015, Galdana Ventures has delivered its vision to offer investors access to outstanding global Venture Capital Managers, their funds and portfolio companies, providing Galdana LPs with extraordinary diversification by geography, sector, stage and vintage. This strategy has brought Galdana Ventures sustained growth and success, leading to today's AUM of over $1.8b.
The Galdana Ventures III Programme is currently in fundraising, having surpassed $650m. Its final closing will take place in August 2023, by when the team expects a final size of over $700m.I
In the photo, from left to right, Javier Rubió, Didac Lee, Marcel Rafart, José Luis Molina, Miguel Zurita y Roque Velasco
"Many factors have fuelled Galdana Ventures' success," says CEO Marcel Rafart. "The digital revolution continues to have tectonic consequences on today's society and economy, and within the private markets Venture Capital is the asset class best placed to benefit from it. This is especially true when investing in the best Venture Capital managers, who are heavily oversubscribed as a consequence of their persistent, extraordinary results. Being heavily oversubscribed makes it extremely hard to access these funds. Thanks to the Galdana team's entrepreneurial background and active approach, Galdana Ventures has built deep relationships within the industry and is able to invest in the leading Venture Capital Managers of the world".
---
[1] The Galdana III Programme is comprised of two parallel funds: Galdana Ventures III, F.C.R and Galdana Ventures III SCA SICAV-RAIF. The FCR is a Spanish vehicle registered in the CNMV with registration number 333 that will have its final closing in April 2023, and the SICAV-RAIF is registered with the Commercial Registry of Luxembourg under number B258148 which will have its final closing in August 2023. Legal documentation available upon request.